I woke up today to sunshine! What a treat! We've had such a dark, cold, and gloomy winter here that seeing the sun at 6:30 am was wonderful! I'm filled with hope that spring may finally be on it's way. And this quote by Charles Dickens describes March perfectly, don't you think? At least in the upper Midwest it does! I'm borrowing this image from Sharon Vrooman's blog, which you can see
here
if you like.
I've been busy this past week, dealing with a horrendous head cold that I picked up while flying and visiting in Maine. In the past few days, I've felt good enough to actually go into the sewing room and get some things accomplished. First of all, I made the warm, snugly fleece bathrobe for myself that I've been meaning to do all winter. It turned out to be more of a functional garment than a fashion statement, but, oh boy! is it warm on a cold winter's morning!
When that was finished, I turned to my doll patterns. Last April, Lily got an American Girl doll for her birthday and I promised that I would make her (the doll) some clothes. Before I went to Maine I managed to finish 2 garments but the poor doll needs a few more things and Lily requested modern clothes instead of more period clothes. This is what I've accomplished so far.
Felicity and Samantha are sitting by the fireplace, all ready to go out for the day with their friends. Felicity is wearing her new coral colored sundress, and Samantha is sporting a white T shirt with blue button trim and a zippy bright and colorful skirt.
Here the girls have changed into two other outfits. Samantha is wearing a cute yellow dress with matching hat and Felicity has on a neat blue and purple 3 piece outfit, both of them perfect for a day of adventure. (Do I sound as though I'm narrating a fashion show? As I was dressing the dolls for these pictures, that's what I was thinking! LOL! I guess it doesn't take too much to amuse me these days!)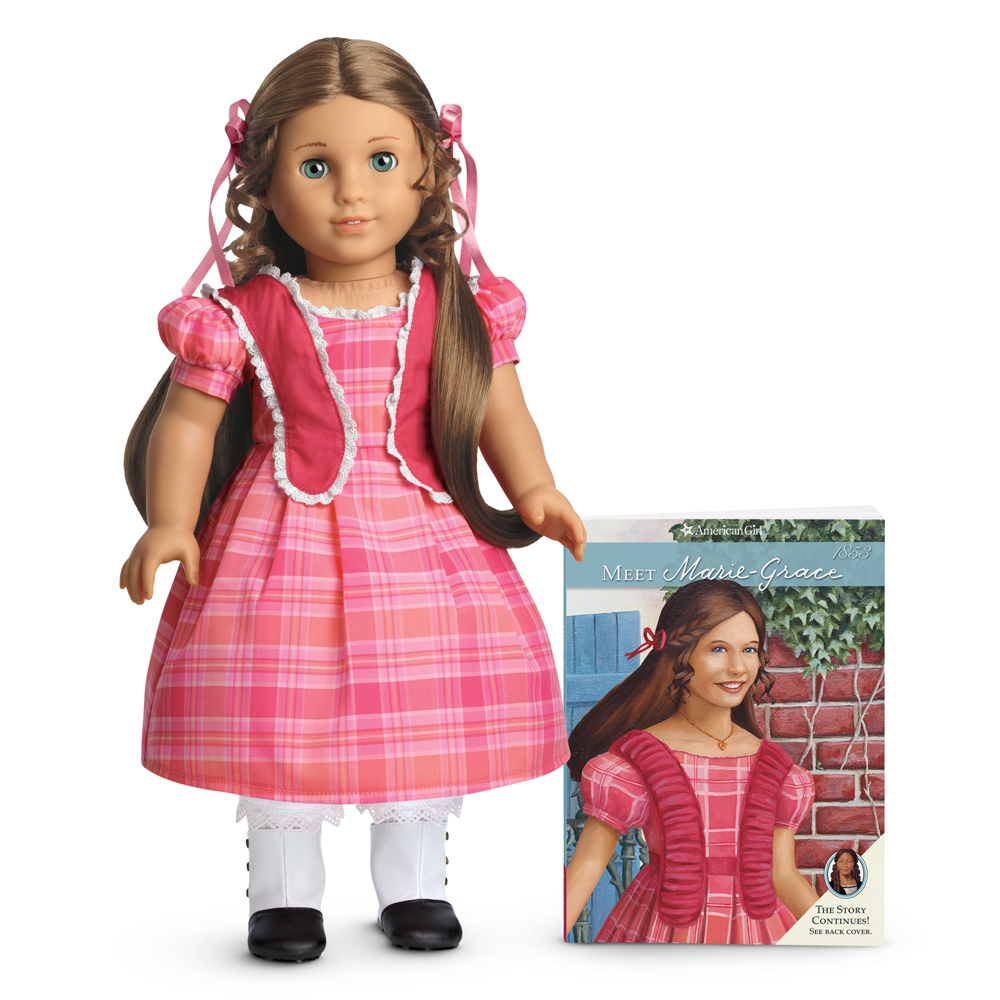 Marie Grace by Mattell American Girl
Lily's doll is Marie-Grace and she's in Maine with Lily and her "best friend," Molly, who was Lily's mother's doll when Tessa was a child. The dolls in the pics belong to my other daughter, Jo, and they live in the house with me. They have been wondering what all the sewing was about and were so happy and excited to model the new clothes for me!
OMG! I can't believe I actually wrote the above paragraphs! Makes me sounds like I've lost my mind! But, honestly, I've always thought of the AG dolls a little like children, since I got them for my daughters, about 20 years ago. I remember feeling so guilty about buying them because they were--and still are--very expensive. Then one day, I was picking up Barbie things that were left scattered around the house and began adding up the cost of all the Barbies and accessories that I'd bought over the years. It came to way more than the cost of the AG doll! It was money spent in lots of small doses rather than all at once like buying the AG dolls. So, guilt was gone and I enjoyed watching my girls play with their dolls over the next several years. We saved the dolls as well as all the accessories that we'd accumulated and now, Lily is enjoying them.
But still, after 20 years wearing the same clothes, I know Samantha and Abigail would enjoy getting something new. Maybe, after I've finished sewing for Marie-Grace and Molly.
But this afternoon, I'm going to take advantage of the sunshine and (relatively) warm temps and go outdoors to prune my apple trees. Maybe I'll finish sewing the last 2 doll outfits when I come back inside.