Oh my gosh, it's been nearly a month since I posted and I have so much to share! I have no pix but will pull them from the internet to illustrate where I've been and what I've been doing.
First of all, Don and I loaded up the car with most of the rest of our daughter's things that were left here when she moved to the Portland, ME area last July. We drove out there to have a short vacation with her and to pick up her daughter, Lily, to bring her back to WI for the summer. While we were in Maine, we did a few touristy things. Here are pics of Peak's Island, a beautiful island community just a short ferry ride from Portland. It was a perfect day to tour the island and view all the charming homes and amazing ocean views. There were wild roses blooming everywhere! This island had a military presence during WWII and I'd love to spend rent a cottage there for a few weeks, writing a novel about that time period.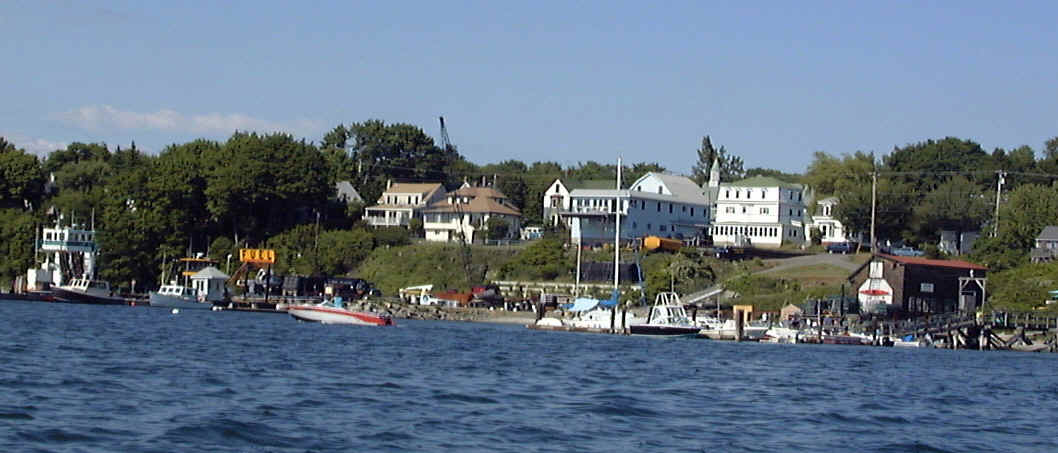 Another day we spent on the
Casco Bay mailboat tour
that goes further out into the Bay delivering the mail and other supplies to the islands' residents, and again, it was a gorgeous day and the islands were all so lovely. I think I must have some seafarers in my ancestry! I just love being on the water!
We had our share of lobster and spent some time on the beach exploring tidal pools. I even found a quilt shop about 8 miles from Tessa's home and we all had to go there. It's called
Calico Basket Quilt Shop
and it is so nice. I don't have any pix of the interior but I was looking for lobster, moose and other Maine related fabrics, and they have them! I got blue and white lobster fabric and blueberry fabric as well as a couple of neutral fabrics. I'll be using them in the blue and white/neutral Log Cabin quilt that I'm going to make for my son and daughter-in-law (as of Aug 28). In addition to the regional fabrics they have tons of "regular" fabrics as well as lots of embroidery patterns and supplies. I remember seeing several of the McKenna Ryan designs as well. If you're in the Portland ME area, I highly recommend this shop--good variety and great service.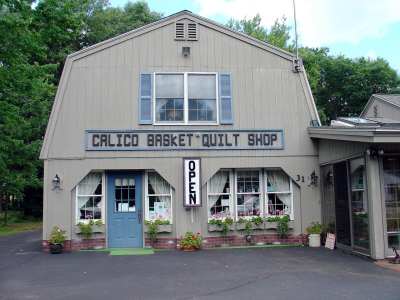 After we packed up Lily and her things, we took off for Virginia for our first stop on the way home. Lily had been studying the Civil War during her last few months of school so we went to
Appomattox Courthouse
where Lee surrendered to Grant, beginning the end of the Civil War. I was impressed that she found this quite interesting as an 11 year old, but of course, this is a National Historical Site run by the National Park Service, so they did an excellent job of making it interesting.
I'd always thought that this surrender ended the war but learned that this was only the Army of Virginia which surrendered. There were 3 other armies which surrendered between April and June, 1865, the last one being in Texas.
When we left there, we aimed to Asheville, NC where we had originally wanted to tour Biltmore Estate but after learning how much the entrance fees were, we decided to go to the
Moses Cone Manor
instead. What a beautiful vacation home for the Cone family back in the day! It's in need of maintenance now and I hope funds are found before it gets too bad.
I'd heard about his place while reading Bonnie Hunter's blog one day so when we were ready to leave Asheville, we entered the address into the GPS thingy only to learn that the Manor was 70 miles away--the wrong way from where we wanted to end up! Don was quite upset--he likes to travel in a straight line from A to B with as few stops in between as possible--but I insisted that this was my vacation too so off we went, North into the Appalachian Mountains. We found the place and then learned that the house wasn't open for touring except on weekends and we were there on Friday. The bottom level was filled with beautiful articles made by the Southern Highland Craft Guild--pottery, weaving, glass, jewelry, etc., but only a few quilted items. Maybe they have more quilts there closer to the cold season. Anyway, Don and I decided that it would have been a neat place to stop at along the way, but not a destination site. The good thing about this little jog in our travels is that I got to experience some of the Blue Ridge Parkway--oh so beautiful! And Don got over his ire when he looked out at the beautiful views!
Then it was west to Tennessee where we met up with Don's relatives at a state park south of Nashville for a family reunion. We only stayed 2 nights--we're getting pretty tired of traveling by that time!--and headed home to WI which took another 1 1/2 days of traveling. We returned home last Monday and were sooooo glad to be home!
This week has been filled with taking care of things that were neglected while we were gone for 2 weeks and getting Lily settled in again. As well, we had to prepare for the big July Fourth party we have every year! My son and his fiance and kids were here as well as my best friend and her husband for a few days and then some of the neighbors dropped by and other family members came for the day. So it was very busy and I'm pretty much exhausted about now. Everyone was gone by about 1 pm today and Lily, Don, and I have just been sitting and taking deep breaths. This evening, my daughter Jo will be here for the night but she's not any work at all--just more fun!
Have I been quilting? Heck no! And I don't know when I'll have time to resume the quilting on the zebra butts quilt. I still would like to have that finished by the end of summer. (I know I originally said it would be finished by June 1st, and then July 1st, but, hey, I'm flexible!) I have another busy week ahead of me so I doubt that I'll be at the machine any time soon.
So, that, in a nutshell, is what I've been up to the past 3 weeks. What about you?