I've been on retreat for the past 3 days, and now I need to spend today trying to recover! Three days of great fun with an amazing group of women, fantastic quilting, and oh so delicious food! This was the second spring retreat the guild has sponsored but my first one, (last year I was laid up with knee replacement surgery,)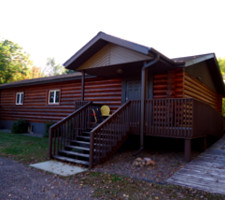 We stayed at
Nawbury Lodge
in Northwestern Wisconsin and what a fine retreat facility it is! They can accommodate up to 16 guests, I think. All these photos are from their website.
Lots of sewing space, (Despite the sign, it's BYO cocktails),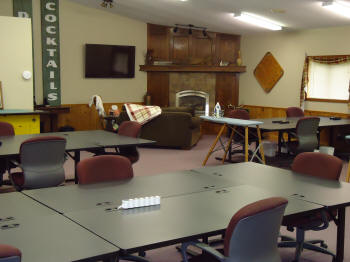 roomy and comfortable beds,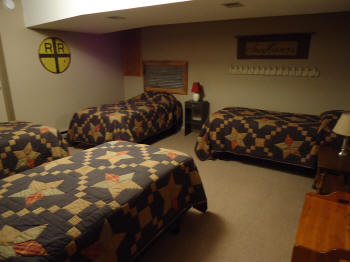 enough bathrooms for all 13 of us,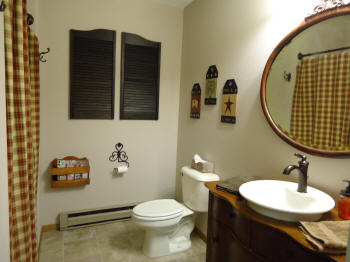 and a fully equipped kitchen so we could prepare our meals.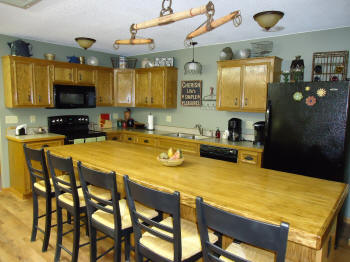 There are also two lounge areas where you can sit and hand stitch along with a movie if you want to, as well as an outside patio in the back, overlooking the surrounding wooded area. Would be just beautiful in the summer, I'm sure.
We decided that we only needed to have brunch and dinner (along with a bounty of snacks, of course!) and we were each assigned to one meal team. I was in charge of preparing lasagne for Friday's dinner which I'd done at home on Thursday. It was well received. :p) The rest of the meals were equally as good and now I'm in charge of collecting all the recipes and emailing them to everyone. Maybe I'll get that done by the end of the day.
I worked on finishing the top for the "Roll Roll Cotton Boll" that I'd begun at a Bonnie Hunter workshop in Gulf Shores, AL in February. Below is the block that I'd made and by the time I'd come home from AL, I had made up the 12 blocks I needed for the quilt, but not the string pieced alternate blocks.
That I did at the retreat and then put all the blocks together on point.
This will be a twin sized quilt when it's finished and will be donated to the guild annual charity project which is for children in the county foster care system. Now I have to decide if I want to make the pieced border that Bonnie did on her quilt, and yes, I have enough leftover fabrics to do that, or do I just want to slap on a plain border and call it good. The quilter part of me want to use up the leftovers and make the pieced border but the part of me that wants this one done and on it's way says, plain border. I'll decide in a day or two what to do.
I also worked on the backing for this watermelon table runner which has been hanging around in the sewing room since last summer.
This is the pieced back that I assembled at the retreat and I had high expectations that I'd get it pinned and quilted while I was there--and could watch a movie in the comfy lounge area while sewing on the binding! But that was not to be--I'd forgotten to bring the batting! Oh well, I'll take care of that in a day or two and then it' going into the
Jolly Ruby store
and hopefully will be on a satisfied customer's table for the summer.
I've been wanting to make something with a bundle of red,white, and blue fat quarters I'd purchased a few years ago. I don't know about you, but sometimes fabric just has to marinate in my stash for a long time before it can come out and be used. Am I the only one like this? Please, tell me I'm not alone in this! At any rate, I brought the bundle along and made up this Xs and Os table runner and this too will be quilted up and will go into Jolly Ruby. I have enough fabric left over from the bundle to make a couple of other things as well. I'm thinking maybe a square table quilt or maybe a set of placemats. We'll see.
No retreat would be complete without a little shopping, right? I went with some of the others to a tiny quilt shop in Sand Creek WI called
Heart Blossom
which I'd been wanting to see for a year or more. It was wonderful! Not only a nice selection of fabrics--especially batiks--but embroidery patterns and wool applique patterns and supplies too. Just up my alley!
I couldn't help myself and I bought this pattern I'd been drooling over on-line for awhile. It's called "Among the Pines" and it'll be perfect hanging in the TV room upstairs, or in my sewing room. It's a little hard to see the details, but each block is something from the Northwoods--canoe, skiing, snowshoeing, a black bear, and so forth. My heart has always been in the northern wilderness so this embroidered pattern is perfect for me.
Before I begin working on this embroidery, however, I have a little knitting I need to finish for my American Girl doll wardrobe. And I have to nag Don to get the supplies to make up a clothes rack for the clothes. I really enjoy making these doll clothes and hope they sell at the quilt tour shop we're setting up.
So, I have accomplished a lot of sewing over the weekend and have a lot more to work on now that I'm home. Better get on it!