Back in mid-November, I wrote about new information about exercising and aging
here
and I thought it was time to post an update. In the 2 weeks since I began exercising, I've done pretty well, I think. I've only rode the stationary bike and not done any Wii boxing due to a shoulder injury I gave myself when I enthusiastically boxed 2 weeks ago. Small price to pay for scoring a knock out on the Wii guy, but still.
Anyway, I've been on the bike nearly every day--even Thanksgiving. The first time, I pedaled for about 20 minutes and went about 4.5 miles. I know I should have made note of these things but I didn't, so kick me, all right? Well, I've been gradually increasing the time and the effort and today I pedaled for about 45 minutes and went over 9 miles! I should go back on the Wii and see if it shows any improvement, but I'll leave that for another day. So, I'm quite happy with my efforts so far. Of course, the scale hasn't budged a bit, but I have faith that eventually it will. I know that 2 weeks is just the beginning, but since I can see progress, that's very encouraging.
Today is going to be very full. After I exercised, I machine stitched the binding on the 2nd pumpkin table runner and hope to finish it this afternoon. I have some cleaning to do--shouldn't take more than an hour--and have to make a quick run to the store to get the ingredients I need to make the sweet potato dish I'm bringing to the pot luck tonight. And if there's still time, I should sit down and see if I can get my laptop up and running so I can begin doing my new temp job. Maybe I should rig up my bike like this: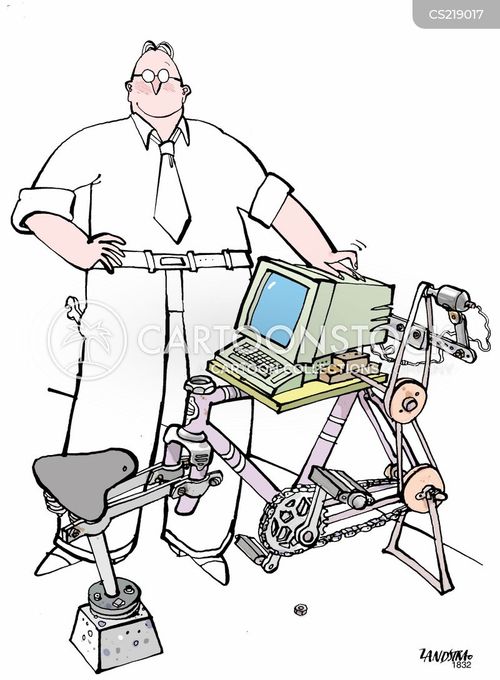 I wrote the first part of this post in the morning and now I'll show you the fruits of my day's labors. No, the housekeeping is still waiting for me. Darn!
Here are the ingredients for my sweet potato dish. I used long skinny potatoes since I'm going to slice them into rounds, 2 cups of OJ, couple cloves of garlic, 1/2 cup fresh cranberries and a handful of pecans.
I peeled the potatoes and cut them into 1/2" rounds and then cooked them until they were just getting soft. It took about 10 minutes, I think. While they were cooking, I mixed together the OJ, garlic, and cranberries and cooked it down into a syrup. I tasted it at the end and added 1 T of brown sugar to sweeten it up a little. Drained the cooked potatoes and covered them with the sauce. Oh yeah, I salted the cooking water for the potatoes and added ground pepper to the orange sauce. The cranberries gave it a bit of a rosy color and then I topped it all with the chopped pecans.
And here's the finished product. I think it looks nice and it tastes pretty darn good too.
I also took the turkey carcass from the frig and it's in the pot making stock for some turkey soup for tomorrow night's supper. And I did get the binding finished on the 2nd pumpkin runner! Now I'm all ready to go the the guild meeting tonight and PARTY ON!