For the past few days, I've been determined to sit down and write a post that I've finished quilting the feathers in the light section of the log cabin quilt blocks, but each day that hasn't happened so I haven't had anything to write about except that I'm still working on it. And that's just too boring even for me. LOL!
Two days ago, on Tuesday, I was making such good progress on this quilting--until I ran out of the white thread I'm using on this part of the quilt. I thought I had a partial spool of a similar thread in my thread box, and yes, there it was. I loaded it onto the machine and again was making good progress when that spool emptied as well. What to do? Remember, I live about 40 miles from the store where I get my quilting threads so a quick trip to the LQS is not so very quick. Checked the thread box again and found another partial spool of thread which was a bit darker but would do. So I loaded that one and then called it a day.
Yesterday, Wednesday, I began quilting again with the slightly darker thread and it blended in very well. Whew! Full steam ahead! Until that spool also was empty! What the heck! I thought those spools had more thread on them than they actually did. So now, I had no more white or neutral thread in my box, so I was forced to go out and get more. I called the shop to see if they had the color I needed and they did, so into the car I went to Rice Lake.
Now keep in mind, we had about 4-5 inches of snow over the past couple of days, and the streets here in town are snow packed and slippery. Who knows what the highway would be like? I made sure my boots were in the car along with a hat and mittens, and that Don had his cell phone handy and that mine was in my purse--just in case. I had images of this going through my head as I started out: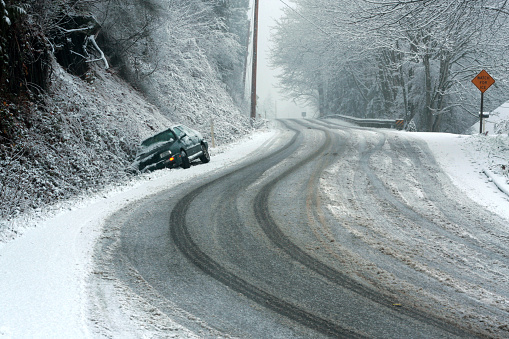 I've been there and done that more than once in the past, living here in the Northland, and did not want a repeat of it yesterday!
At any rate, when I made it out of the neighborhood and then out of the town, I found the state highway in very good shape! Yea! I drove a little more slowly than usual, thinking there might be icy patches on the road, and managed to make it to and from the store without mishap!
As long as I was in the store, I had to take a "quick look around," if you know what I mean. I came for one spool of thread, and left with 3 spools and a large bag of half yard cuts of Christmas fabric that was on sale! Now how could I pass up all that Christmassy, fabricky goodness? If Don asks, I'll emphasize that I saved $40 and how could that be a bad thing?
I got home too late in the day to begin working on the quilt again--I find that quilting after about 5 pm is not something I can do with any success--so I'll begin today and with luck, I'll get the feathers all quilted in and can begin the second design. I've quilted feathers in all the interior blocks and only have the ones around the edges to get done. They're easier since I don't have the entire bulk of the quilt stuck between the needle and the "neck" on the right side of the sewing machine.
Before I go downstairs today, I have to clean up the house a little. I'm having a meeting of the Quilt Festival team tonight and we'll be making decisions on whether or not to have another festival and if yes, what format will it take. Should be interesting!