This first day of 2017 was very quiet at my house. Jo took off around noon and I had the rest of the day to myself. Don was in his Man Cave, absorbing football games while I did a few chores and played on the computer. After dinner, I took out my stitchery and finished the first of the blocks for the
Among the Pines
piece I began a few days ago.
This is the entire quilt, measuring about 42" square: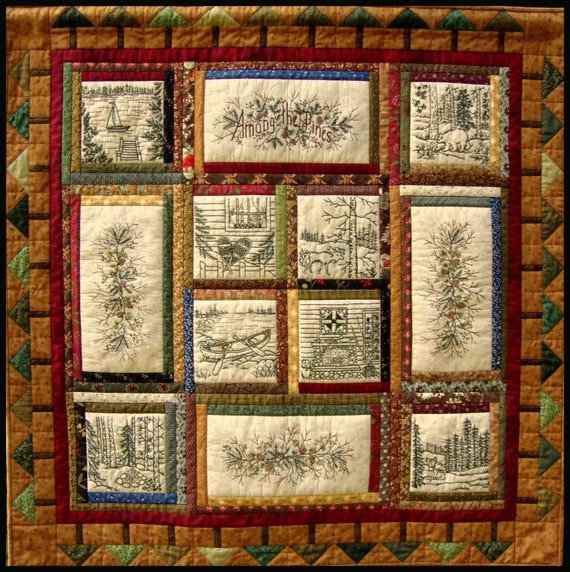 The first block I worked on is in the center lower left, the one with the canoe.
I'm working the design on 8" squares of fabric and when it's trimmed down, the design will be 6 1/2" square.
Above, you can see how tiny the stitches are in the pine trees. Some of them are an eighth of an inch or less! For perspective, this dime measures 3/4" in diameter and you can see how much smaller some of the stitches are.
When I bought this pattern, I didn't realize how small the blocks were and consequently, how tiny the stitching would be. Holy Cow! I'll probably need new glasses by the time I'm finished with this thing! And maybe I'll have to get a magnifier as well!
But I'm soldiering on. I hooped up the second block, the fireplace which is in the center bottom right. By the time I hit the sack last night, I was able to get a bit of a start with the fireplace rocks and the things on the mantle. Lucky for me, all the stitchery is in the same color, a dark green, and most of it is stitched with just one thread of floss. Even so, I wish the directions had told me to buy several skeins of this color. I only got one skein and now will have to make another trip to the store to get the rest of what I need.
I'm very optimistic that this embroidered quilt will be a show piece when I'm finished. And in this one, I promise I will check thoroughly for mistakes before I quilt it up!
Speaking of quilting--no, I didn't make it to the sewing machine yesterday. That's on the agenda for today. I have to do some things on the computer this morning and the afternoon should be freed up for working on the Log Cabin quilt. I have every intention of showing you pictures of it tomorrow.