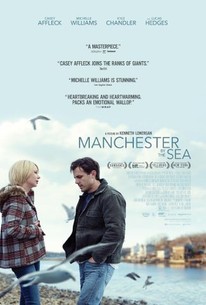 Yesterday book review, today I'll let you know what I thought of the movie Don and I saw yesterday--
Manchester By the Sea.
I thought this movie was directed by Matt Damon but I see at Rotten Tomatoes that the director is Kenneth Lonergan. Maybe Matt was in on the producing--I don't know. Anyway, Rotten Tomatoes gave it a 97% and an audience rating of 85%.
Both Don and I liked it although it's an unusual movie. Without revealing too much plot--and surprises--for those who haven't seen it yet, the story revolves around a young man who's suddenly made guardian of his recently deceased brother's teenaged son. The man needs to return to his home town, Manchester-by-the-Sea, where the kid lives, and where the man was has a terrible tragic past. An event he's not been able to come to terms with. So, the man and the teen need to figure out how they can make this new arrangement work for both of them.
Acting was Pretty. Darn. Good. IMHO. I got teary a couple of times at the psychic pain the young man was feeling as well as laughing a few times at the jokes between the kid and the man. I would like to see this movie again because it's one that you can't possibly take in completely in one viewing. The ending is not at all what I expect in a movie--but it wasn't a bad ending.
Nuff said about that movie. I'll either rent it for the second viewing or watch it on Netflix. After the theater, we finished up the Christmas shopping and I found the bobble fringe I wanted at the Joanne's. Today, I'd like to get that sewn onto something so it doesn't linger too long.
Before I hit the sewing room, however, I NEED to do some housecleaning! Those of you who've been with me in this little blogging journey know by now that cleaning house is right down there with getting prepped for a colonoscopy--not my favorite thing to do! However, both cleaning house and cleaning the colon are necessary for good health, (so they say!) so I'll get to work on the housework. My colon can wait for another few years before I have to get that thing cleaned out again, thank goodness!
Maybe I'll try the vodka suggestion the next time!
I found another Christmas ornament that I want to try out in the sewing room today, if there's time. It was posted at the Moda Bake shop,
here
if you want to check it out. Two little pieced ornaments--churn dash and sawtooth star. And I have the scraps to use!
So, that's it for today.