I already shared with you how Don and I celebrated Christmas with our daughter Jo here at home. Well, we also did some Skyping with our other daughter and granddaughter in Maine on Christmas eve and morning and that was pretty cool since they can't join us this year. However, Tessa works for the absolute best company out there and she's already making arrangements to be home next year for a long Christmas break, and the company says they have no problem with her working either from our house or from their Eau Claire office where she began her career. Sweet! It'll be fun to be with Lily for some of the winter instead of only the summers.
So, that covered 2 of the kids. The third one, our only son, Dan, is in Milwaukee with his wife and 3 kids, and they have Christmas with Erin's large family down there. Don and I drove down on the 27th and had the kids swimming in the hotel pool, opened presents from everyone and for everyone, and then had a "grazing" dinner. I brought a bunch of finger foods so everyone could just help themselves to cheese, meat and crackers, veggies and dip, fruits, and so forth. And we opened up the ginormous tin of Barb's Balls!
We spent the night at the hotel since their house is a little on the small side, and in the morning, they all came back over to have brunch with us in the hotel dining room. Delicious! And then we drove back home and celebrated our wedding anniversary last night with dinner at the new Hmong restaurant here in town. We've had take out from there before but last night we dined in the restaurant. We each ordered something new and were not disappointed.
Don had Mongolian Beef with rice which he liked very much,
and I had Laab or Larb, and it was extremely delicious! This is ground meat (I chose chicken) cooked with cilantro, green onion, chili peppers and served with rice and lime. I'd heard about this dish on Guy Fieri's Diners, Drive-Ins and Dives when he discovered Opels' Thai Food in Haleiwa on Oahu, HI. When we were in Hawaii a couple of years ago, we found this restaurant and the food was amazing, so I'm really glad to be able to have it again here in NW Wisconsin! Who would have thought?
In the quilting world, I have an appointment tomorrow at 9 to take the king sized blue and white log cabin quilt to the rec center and use their tables to spread it out and create the quilt sandwich. I have the backing all done but have to cut the batting yet. Shouldn't take but a few minutes--Knock, knock, on wood! Then I'm all charged up to get it quilted and bound and sent off to it's new owners, Dan and Erin.
I know, I know, I shouldn't even think about starting a new project, but this one is only one block a week and I should be able to handle that, don't you think? I have a large amount of Christmas fabric that's a very pale green background with springs of dark green and dark red Christmas greenery scattered about. I thought I'd use that for the background of the blocks and use Christmas reds and greens from my stash to make the blocks. And I'll end up with a Christmas quilt for one of the beds. I have 2 bed-sized Christmas tops finished and when this challenge is finished, I'll have a third one waiting to be quilted up! We can always use more unfinished quilts hanging around the house, can't we?
After I'm finished with this post, I'm heading to Eau Claire to get some embroidery floss--and run some other errands as well--for the new embroidery project I'm getting ready for my evening stitching.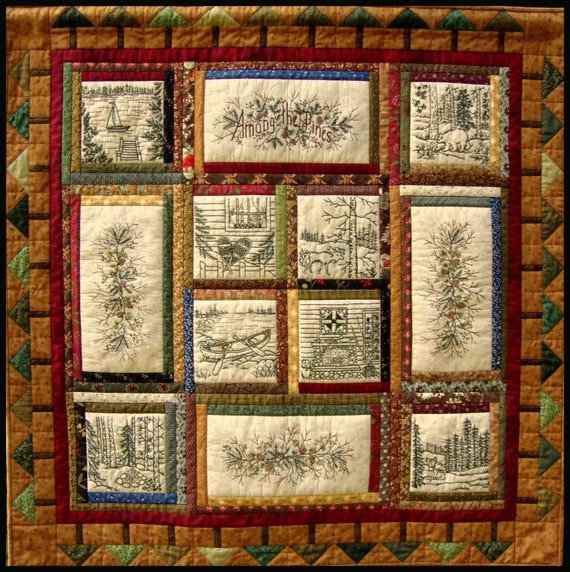 It's called Among the Pines and it finishes at 42" square, if I remember right. The square blocks are finished at 6 1/2" and there's a lot of stitching to do in each square. I spent an hour tracing the upper left block, with the sailboat, and had a very difficult time doing all the little lines on the pine trees. I decided to try using Sulky's Printable Sticky Solvi which I think is carried at Joanne's. If it is, I'll get some and take it to an office supply store nearby to have them photocopy the designs onto the film. I also need to get floss for this project. I usually just dig into my supply of partially used flosses, but this project requires quite a bit of the same colors so I'll get full skeins and know I'll have enough.
Later this afternoon, I have OT on my wrist and that's about all for the day. What does your day look like?