Doesn't this just remind you of Home Ec in 8th grade?
I'm planning on being in the kitchen all day today. Well, maybe a little bit in the sewing room if I can.
When I got out of bed this morning, it was -20 F and that's way too cold for anyone. How the animals survive outdoors, I have no idea, but I'm staying indoors for as much of the day as I can. In the kitchen. I'm going to finish baking cranberry orange bread and Don and I will deliver the loaves to the neighbors later in the afternoon--predicted high of -5 around 4 pm! Balmy, don't you think?
After the bread is baked and out of the oven, I'll put in the pot of Beef Bourguignonne and that will be ready when dinner time rolls around.
Don and I had a bit of a chat this morning. We usually spend an hour or so talking while I drink my morning coffee and he has his morning water, just going over the news of the world (and solving all the world's problems while we're at it. LOL), what's happening in town and with our kids, and what our plans are for the day. Then we go our separate ways until we have dinner together and get ready for the evening. So this morning, he'd watched Meet the Press, and he asked me if I felt anxious and nervous about what the future holds. Well, yes, says I. I think we're all nervous over the future--no matter if you're a conservative or a progressive, we all should realize that we're in the middle of a great change in America and no one really knows what that means for us.
I told Don that I've decided that it's best to limit my exposure to "news" sources and that when I watch news on tv, it should be on PBS. I try to focus on what I can and need to do to make my little section of the world a better place than it was the day before. That's all I can do. So, today, I'll be baking gifts for my neighbors and making delicious food for my family. And if there's time, I'll be doing some sewing for myself.
Yesterday, I delivered the placemats and napkins to Jo for her Secret Santa, and she was pleased with them. Whew! I never know when I'm making something for someone whether or not they'll like the finished product, and she did.
Yesterday on FB, I found this quilt at
Quilting Digest
.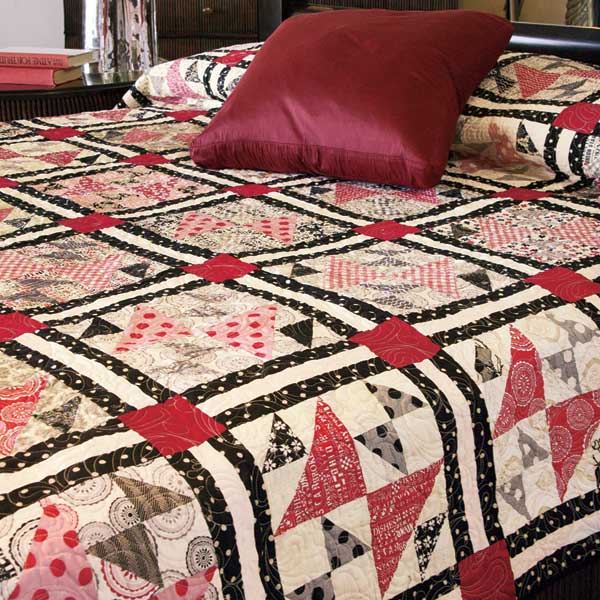 I immediately fell in love with it and printed off the directions to make it up. It'll be a great scrap buster! I'm not sure what colors to use. Although I like the red, white and black color scheme shown, I think I'd like to make this up in something different. Likely some color that I have a lot of in my stash!
And I also found this
Holiday Quilt
from Quilter's World Autumn, 2014, and I like it very much as well.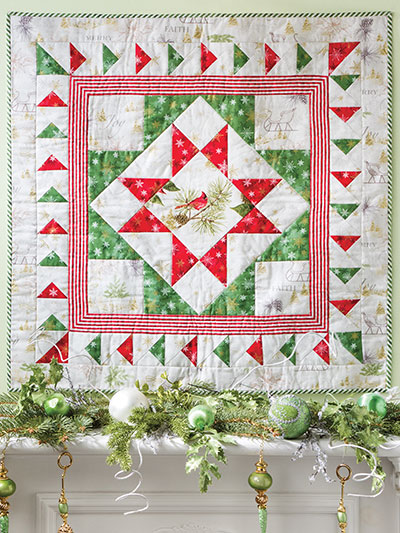 I have the perfect place for this on my wall, and I'm sure I have some holiday fabric to use in the center of the star. I'll just figure out dimensions and make this up to fit the space I have. So, another entry on my list of Quilts I MUST Make!
To everyone in the frigid upper Midwest, please stay warm and don't go out unless you absolutely must. It's dangerous cold out there today. Stay home and cook something!