Yes, I managed to finish up Allietare yesterday. Well, the final border was stitched on but I'll wait to mark the scalloped border until I get home and can use my template plastic instead of tracing around paper. So, can I show off a little?
Spread out over a bed.
One of my favorite blocks--I used a fabric with the names of Santa's reindeer written on it.
I like this block with the floral fabric in there.
One more of the blocks that I particularly like.
Oops! Look what I found as I was handling the top and putting on the borders. Should I leave it as a humility block? No, there are multiple mistakes in this top so I don't need to leave this error as is.
There! A little unstitching and restitching and it's all fixed. I like it better this way. So glad I found this when I did. Usually I see these kinds of errors as I'm machine quilting it or worse yet, after it's completely finished, and then it's a little too late for fixing without a lot of unstitching.
I've continued working on Among the Pines and last night I finished all those picky little pine trees in the background and began stitching the pine trees on the right side. I also managed to get some of the water lines finished as well. So, that's pretty good progress on this block.
I'm thinking of beginning to frame the blocks up as I go instead of waiting until they're all finished. We'll see.
Today, I want to begin making the blocks of
The 182 Day Solstice Challenge
, created by Pat Sloan. She's releasing a different block every week until the Summer Solstice in June, and to date, I'm 5 weeks behind. In other words, I haven't made any of them--yet. I brought along my Christmas fabrics and intend to make the blocks out of them so I'll have a new throw to use during the holidays. Next year, maybe.
When I have the first block made up, I'll put that aside and begin making a table runner or some such thing out of the Christmas fabrics so I can get a head start on items for my Etsy shop for next year instead of scrambling at the last minute to get some things finished up. My plan while I'm here on the Gulf is to finish up one UFO, make one Solstice block, and make one Etsy item and then move on to the next UFO. Actually, I didn't bring any new projects with me but have four or five UFOs that I'm tired of having on my back. I'd rather have them on my beds!
This morning I'm determined to get out and take a walk before I begin stitching. The weather is so nice here that I really have to take advantage of it. I love to feel the sun shining on my face after a couple of months of winter gloom. No household chores today--just play! After all, it is a national holiday--Ground Hog Day!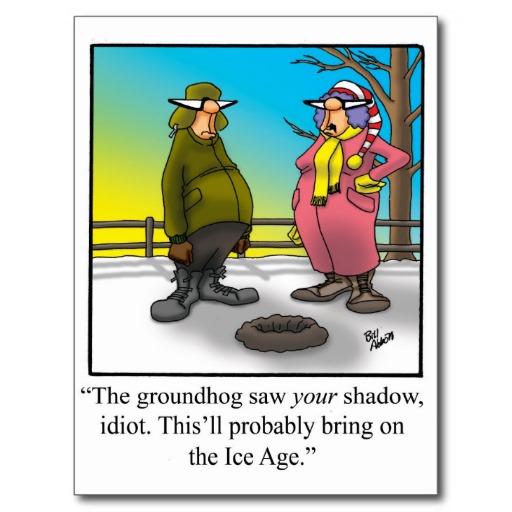 Hope the sun is shining where you live. If it is, there will be 6 more weeks of winter, and if it's cloudy, there will be only 6 more weeks of winter. Take your pick but I'd rather have sun.