Yesterday, I worked on the press releases for the upcoming guild quilting exhibit at the local public library. Today, I'll do some more work on organizing the show. But I also managed to squeeze in some time in the sewing room, making blocks for the
182 Day Solstice Challenge
by Pat Sloan.
These blocks are so quick and easy, anyone can do them I think. I'm liking how they're turning out and I think the quilt will be something very nice. I have 10 blocks done, I think, and I still haven't decided if I should make more to have a bed sized quilt or make up two throw quilts. Actually, I'm leaning toward making the 2 smaller quilts because they're so much easier to quilt up on my domestic machine. I have a closet full of bed sized quilt tops that have been waiting for several years to be quilted up so why would I want to add to that?
Anyway, here are pics of the 3 blocks I made yesterday.
The red fabric in the two blocks above was in the unfinished project that I unstitched yesterday. It has a bit of gold outlining the design and I really like how it looks against the pale green. Unfortunately, I don't think I have enough for any more blocks, darn! Unless I find some hidden away somewhere in the stash. ;- ]
I wasn't sure of the lime green block but decided to go ahead with it. I found bits of that fabric in a container of old Christmas fabrics that I'd collected when I was a quilting newby. I actually had them in a plastic shoebox! Can you imagine how naive I was back then to think I could store all my fabrics in a couple of shoeboxes? Hah! Anyway, I think the splash of lime green will help the quilt have some pizzazz, and there's enough of the lime green to make one or two more blocks.
I have one more of these Solstice blocks to make today--a 12" Jacob's Ladder to substitute for the 18" one Pat made up. I want to stay with the 12" blocks and have a row by row layout, or maybe I'll do a diagonal setting, not sure yet.
These are all made up of Christmas themed fabrics I already have in my stash. I may have to buy some sashing fabric--I don't know yet--and probably backing and binding fabrics, but otherwise, these quilts are "free!"
Speaking of green . . .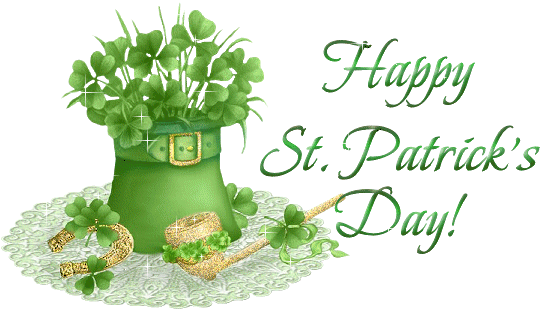 And a joke to make your day go well:
Knock, knock.
Who's there?
Irish.
Irish who?
Irish you a Happy St. Patrick's Day!